Our seminars take place successfully in our Virtual Classrooms!
Even though the public regulations on corona pandemic control have now made it possible to hold face-to-face training courses in compliance with hygiene and distance regulations, imbus academy deliberately decided not to offer its customers or customers
to expose their trainers to a health risk increased by the corona virus.
Therefore all our trainings are currently held in Virtual Classrooms as live online seminars. You can find all dates here!
with our proven trainers
with our proven training material
with an implementation method adapted to the Live Online format
with the use of a specialized Virtual Classroom software solution
In the course of the successful implementation of our training courses we have received a lot of positive feedback from our customers and also the encouragement to continue training in the Virtual Classroom. Of course, we are also looking forward to welcoming our training participants back to face-to-face seminars as soon as the corona-related risk assessment allows it in our view.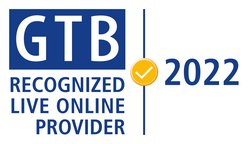 With around 20,000 training participants, imbus is one of the world's leading training providers for software quality management and software testing. We have been an accredited ISTQB® training provider since 2002.